Need and Benefit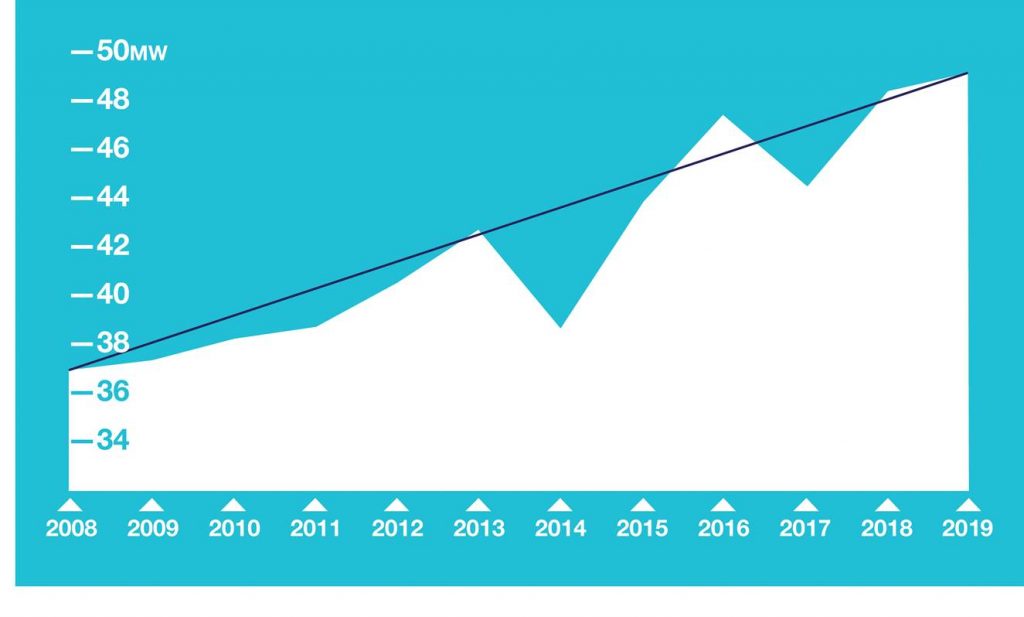 Nantucket's electricity supply is currently delivered via two submarine cables that connect the Candle Street Substation to the mainland power grid on Cape Cod via Nantucket Sound.  The Island also has six megawatts (MW) of diesel generation to provide some temporary power should an outage affect one of the cables. For many years, this system offered adequate electrical capacity for the island, even during peak summer months.
However, the demand for electricity on Nantucket, particularly during the summer season, has grown significantly in just the last 10 years. It has increased from 37MW in 2008 to more than 49MW in 2019 (the lower demand observed in 2014 is due to an atypically mild summer). The system that has served the Island for many years is no longer adequate, and National Grid forecasts that a third submarine cable will be necessary in the next 10-15 years. Further, the aging back-up generators are nearing the end of their useful life and need to be replaced and upgraded to keep pace with on-island growth.
To meet Nantucket's energy needs over the long term, and to defer the need for a third submarine cable for as long as is practical, National Grid has developed a holistic, integrated plan to upgrade the Island's electrical infrastructure. The goal of IslandReady: A Nantucket Electricity Initiative is to strengthen the reliability of the Island's electricity system and to upgrade the power supply system so it continues to serve the needs of our customers as demand continues to increase.
Copyright © 2017 National Grid USA Service Company, Inc. All rights reserved.